An optimized production process with sustainable bakery & food solutions
Sustainable bakery & food solutions
Discover the possibilities of sustainable food production to ensure a future-proof production process
"We were one of the firsts companies in Italy with a KOMA installation, and we still use the Blast Chiller today"
- Lorenzo Cristiani
A future-proof production process without compromising on quality
Sustainability has been an increasingly important topic over the last few years. Also, in the food & bakery industry, this influence is noticeable, for example, in the increasingly stringent environmental requirements that bakeries must meet.

In addition, more and more companies in the food industry are looking for ways to future-proof their production process with the help of sustainable solutions. At KOMA, we believe that you achieve the best results with installations that perfectly match your process and last for generations. This way, not only do you reap the benefits, but so does the environment.

At KOMA, all of our installations are made of high-quality materials. We also monitor our installations 24/7 to quickly identify faults and anticipate them, perform preventive maintenance and constantly optimize our parts so their performance keeps enhancing. This way, we ensure that we can solve the problem early on and extend the installation's lifespan significantly."
Discover the sustainable food & bakery solutions of tomorrow
Learn how KOMA can assist you in creating a sustainable and carefree production process
Natural cold remedies
Until today, chemical refrigerants are the primary type of refrigerants used in the cooling and freezing process in industrial bakeries worldwide. Since studies have shown that these refrigerants are harmful to our environment, increasingly more bakeries are transitioning to natural refrigerants. In the European Union, legislation obliges all companies to switch to natural refrigerants by 2030.

At KOMA, we stimulate the use of natural resources to reduce harmful emissions as much as possible and strive for a sustainable future. We have experience in working with natural refrigerants in the cooling and freezing process and are more than happy to assist you in designing a future-proof production process.
With our 84-year long history

comes experience, know-how and understanding of the bakery and food processing industry like no other.

Over 50 CO2 boosters in operation worldwide

which makes us a pioneer in the natural refrigerant solutions for bakeries.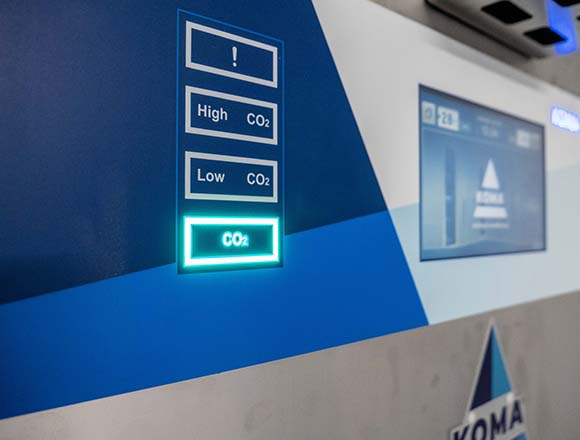 Efficient energy usage
Ensuring you only use the minimum amount of energy required for your production process will not only significantly benefit the environment — it will also save you costs. Especially in the cooling and freezing process, there is often a lot to win, as many installations generate more cold than required for the production process.

At KOMA, we help you get complete control of the energy consumption of your systems and monitor it automatically. We can also advise you on reusing the heat generated by your installation — so your energy usage can be reduced even further.

"CO2 was a new refrigerant for us, but if you want to be future-proof, you can't decide any other way than to work with natural refrigerants. This also resulted in lower energy consumption and is included in the EIA scheme."
Louis van Gelder
Technical director Amarant Bakeries (The Netherlands)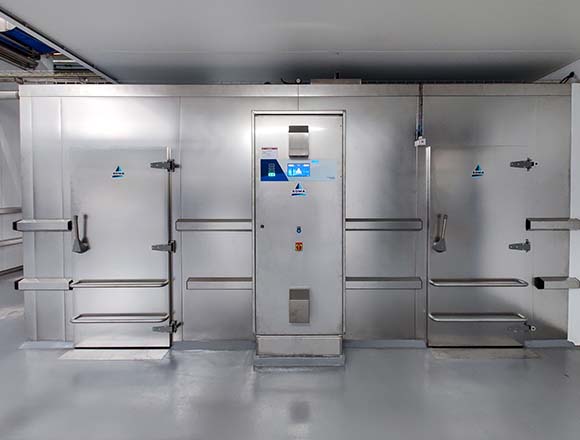 Industrial baking solutions that last a lifetime
If you aim for the highest quality, you need an installation that is geared to that goal. For that reason, we only work with the highest quality materials and offer detailed monitoring capabilities on all our systems. As a result, our systems are extremely reliable and last a lifetime.

On top of that, our installations offer detailed monitoring options that allow for a 24-hour response if something threatens to go wrong. This way, you are ensured of a future-proof solution.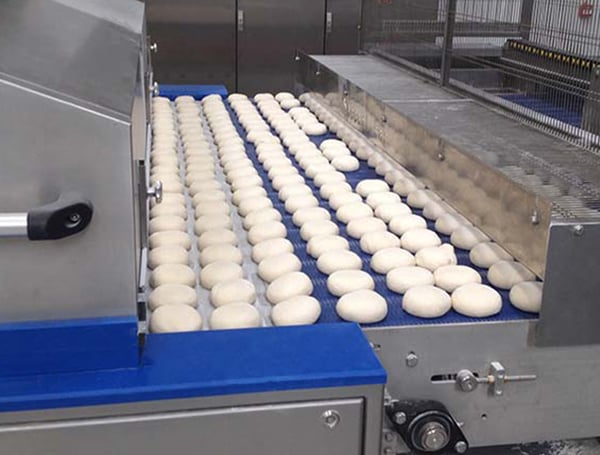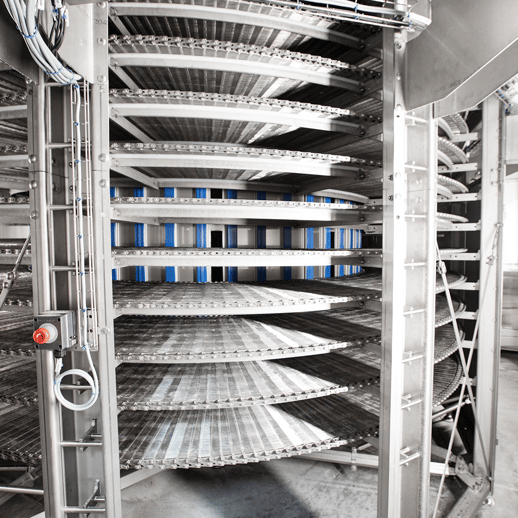 ''We completely reached all desired results. With regard to energy efficiency, our expectations and KOMA's forecasts were even exceeded."
Sascha Kieninger
Managing Director Wasgau Baeckerei (Germany)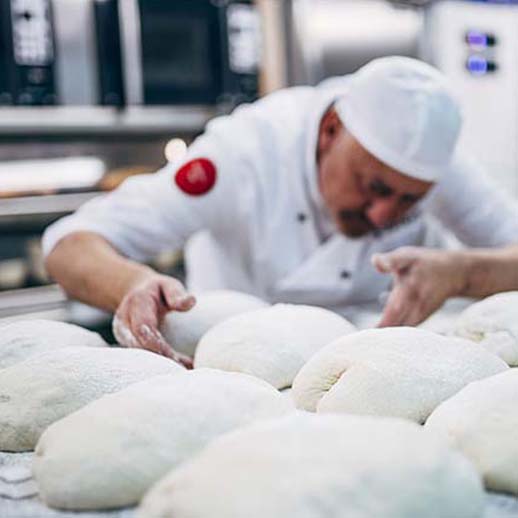 "We needed a problem free operation without surprises, breakdown and downtime. KOMA delivered this to us."
Yong Yew Mung
Chief Operation Officer, Vesta Baking Solutions (China)
Successful sustainable bakery solutions for future-proof production solutions
Ensuring a future-proof production process that complies with all required environmental legislation without losing quality can be challenging. At KOMA, our systems are designed to help you deliver consistent quality levels while doing so in a sustainable way. Learn more about our sustainable bakery solutions:
Want to learn more?
Our industry specialists regularly share their knowledge on reaching consistent product quality levels, upscaling your production processes and the latest developments in the industry.
Discover the latest industry insights