Cabinets, Cells & Industrial







Blast Freezing
Optimal freshness, structure and taste: Blast Freezing creates the perfect conditions for the storage and shipping of your high-quality products and brings the freshest moment closer to the consumer.
The solutions to Blast Freezing challenges
Maintaining product quality.
an essential part of meeting high expectations of the end consumer.
Consistent, repeatable production process.
Maintain full control over air circulation, relative humidity and temperature during Blast Freezing.
Improve logistical planning.
Build up product stock without dehydration and maintain the optimal freshness of the product.
Correct freezing temperature and method.
Create small ice crystals in the core of the product to preserve optimal taste and structure.
The benefits of Blast Freezing
Discover how KOMA's Blast Freezing solutions enable high product quality, consistent production and future-proof logistical planning to bring the optimum taste moment closer to the consuming moment.
High product quality – frozen in time
Not properly organizing the freezing process can lead to significant product quality loss. The advantage of Blast Freezing is that you can freeze products quickly without a decrease in quality. With the unique Blast Freezing method, you easily keep products in stock for a longer period, better matching the needs of the end customer.

Every product is unique. Let us help you create a Blast Freezing solution that matches your product – and production process.
With our 84-year long history comes experience,

know-how and understanding of the food processing industry like no other.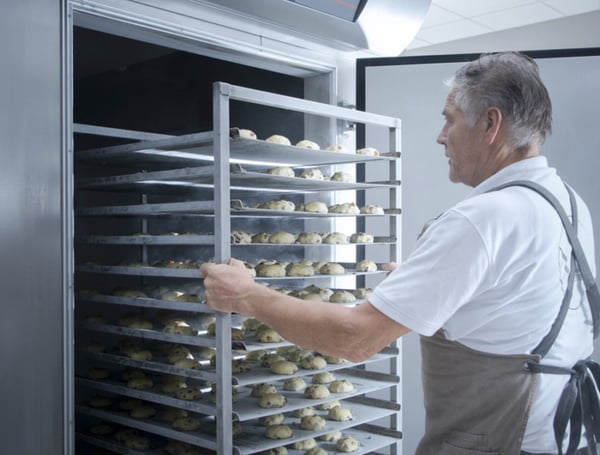 Preserve product structure and taste
Time and temperature control, air circulation and relative humidity are just a few factors to keep in mind while freezing your product. Neglecting these conditions can seriously harm the quality of your product.

Blast Freezing your product under the right circumstances will allow you to store the product (packed or unpacked) in storage freezer cells for extended periods.

"The horizontal Blast Freezing technology with the KOMA TurboRunner made it possible to guarantee the product with more friability and fragrance: therefore to obtain a better quality product."
Corrado & Marco Menchetti
Owners Menchetti Panificio (Italy)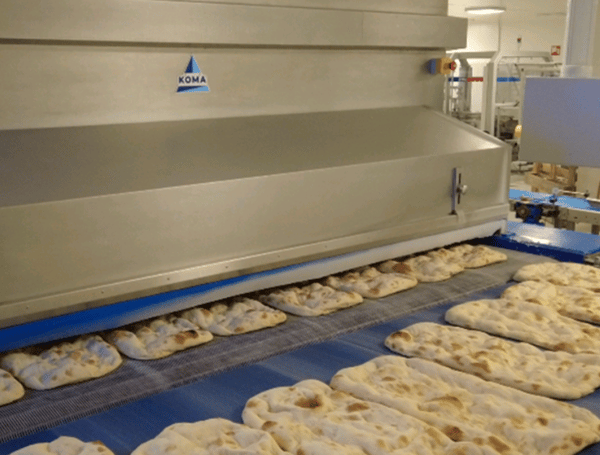 Optimal production process
To maintain the aroma, taste and structure of the product, the process of Blast Freezing must fit seamlessly into your production process.

To create the perfect Blast Freezing circumstances, we look at the following essential factors:
Future-proof product line: what does your production plant look like now, and in the future?
Environmental factors: what is the exact location of your production plant, and how does that impact humidity and temperature?
Current installations: how would a Blast Freezing installation fit into your current landscape?
At KOMA, we strive to create a lean production process together with you. We have many years of experience in different industries. With our extensive knowledge of Blast Freezing systems, we are happy to help you find the solution that's right for your industry.

Depending on the storage after Blast Freezing, KOMA can advise you on the next steps and installations for the best process.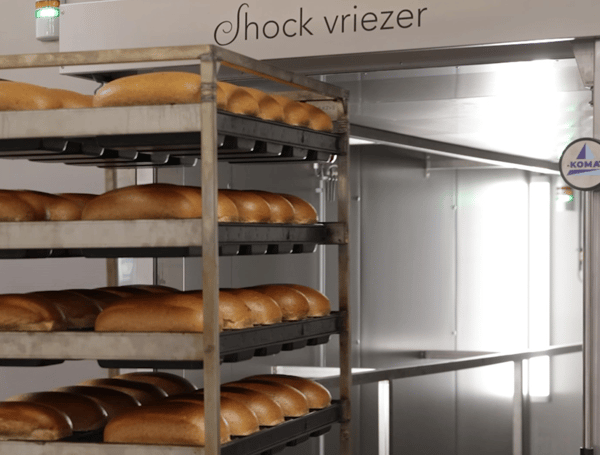 Our Blast Freezing products
We can tailor all installations to your needs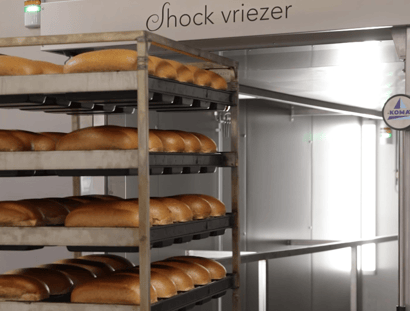 Blast Freezing tunnels
IBF & KTT
Temperature range: -38°C / -18°C
Designed for: 2-10 trolleys
Capacity: >100 kg/h
Semi-industrial blast freezing installations designed for multiple trolleys handling outputs of several kg/h. Both standing and hanging evaporators possible. Ideal for blast freezing large batches of dough pieces, pastries, vegetables, or other consumption goods. Execution in tunnel version possible.
Click here to receive personalized advice on your blast freezing outputs…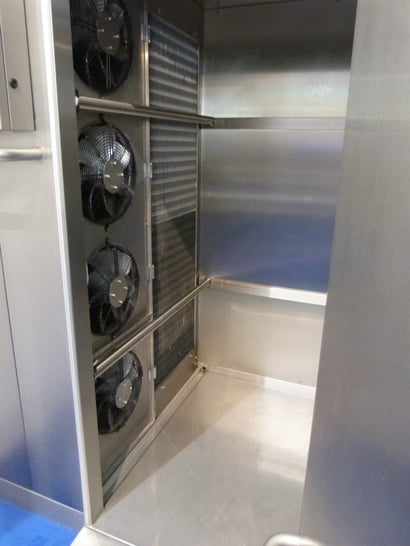 Trolley freezer
KPCF
Temperature range: -32°C / +15°C
Designed for: 1-2 trolleys
Capacity: >100 kg/h
A chiller and freezer combination designed for 2 trolleys. Ideal for cooling down prepared meals or blast freezing smaller batches of unpacked products.
Talk to a specialist to receive more info on the KPCF.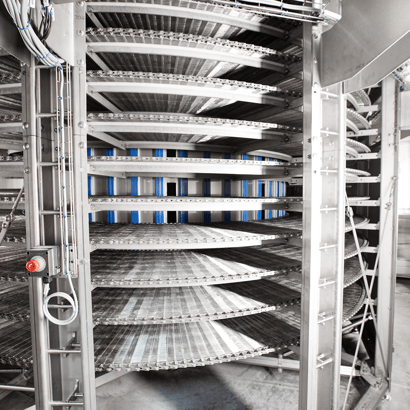 Belt solutions
KTR & KSP
Temperature range: -38°C / -18°C
Designed for: integration in automatic production lines.
Capacity: >1000 kg/h
Both horizontal and spiral belt freezers are possible. These industrial belt solutions are perfectly integrable in an automatic production process handling thousands of kg per hour.
Talk to a specialist and discover how a belt solution can help your production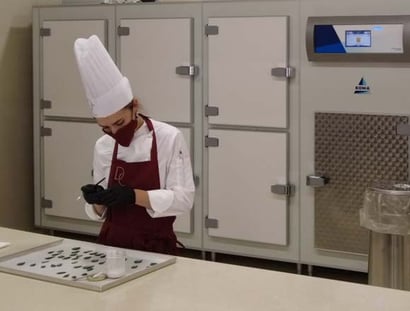 Blast freezing cabinet
H and HN
Temperature range: -38°C / -18°C
Designed for: trays
Capacity: 35 kg/h

A KOMA best seller! The H-cabinet is a blast freezing and frozen storage combination cabinet. Blast freeze at -38°C and immediately store at -18°C using up to 10 storage compartments. Suitable for 600x800 and 600x400 trays. The H-cabinet has been trusted by professionals for over 70 years!
Find out the benefits of a cabinet for you, talk to a specialist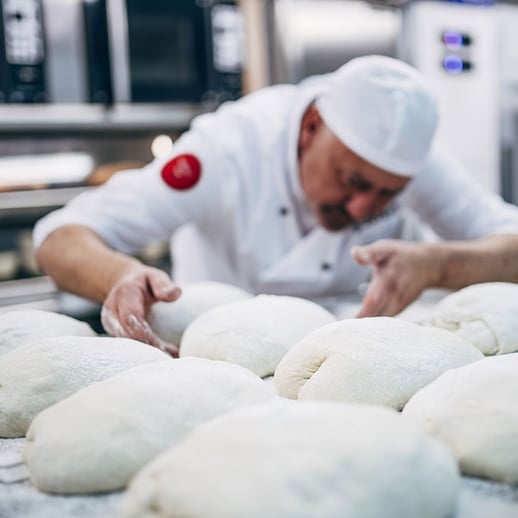 "Our goal was to get the right condition at every corner of the Blast Freezer and proofer, KOMA made this happen."
Yong Yew Mung
Chief Operation Officer, Vesta Baking Solutions (China)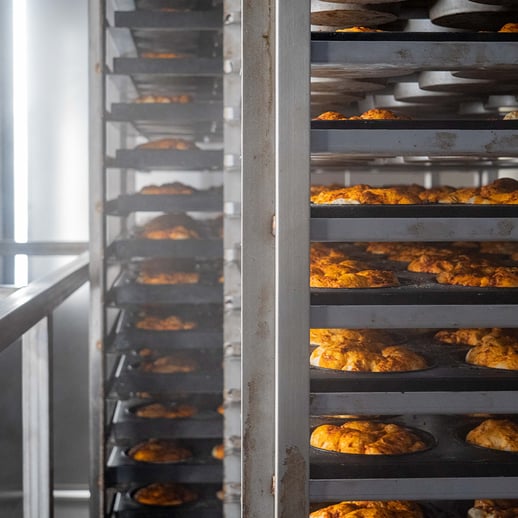 "With glycol defrosting of the evaporators, we can blastfreeze 24/7. This results in lower energy consumption, meeting our national energy restriction scheme."
Louis van Gelder
Technical director Amarant Bakeries (The Netherlands)
Want to learn more?
Our industry specialists regularly share their knowledge on reaching consistent product quality levels, upscaling your production processes and the latest developments in the industry.
Discover more knowledge